Day 28: Inspired by a flag!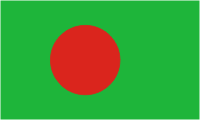 Look familiar? no? This is the flag of Bangladesh! I chose this flag because I have a sponsor child who lives in Bangladesh! she's 12 and her name is Lima. I sponsor her through Compassion International. Through their program you are essentially a child's pen pal, and you donate a certain amount of money to them each month. It's a really fun thing to be a part of, check out the link if you're interested. :D
What I Used: Essie Jelly Apple, Sinful Colors Call You Later, Happy Ending and paper reinforcement ring stickers.
These two SC greens go great together! i'd also like to put CYL over, black? yeah black!
The paper stickers work well for half moons, AND to put giant circles on your fingers. (just remember to stick them to your hand first, then to your very dry nails)
I'm so glad i decided to pick up Call You Later earlier this week. i don't even like green, but it has tiny little gold glitters in it too! and it's just sooo pretty!!! :D